This article sees a welcome return for 5D to the catalogue of obscure delights from the British Film Insitute's Flipside label. BFI Flipside is dedicated to rediscovering cult British films, reclaiming a space for forgotten British films and filmmakers who would otherwise be in danger of disappearing from our screens forever. In turn these wonderful films are then traded to quality DVD and Blu-ray releases and come laden with all manner of special features that often cannot be found anywhere else. If you haven't ever cast your good eye over the back-catalogue of releases then I suggest that you do so now – Well, actually not right now, at least read this article first before you disappear. Thanks.
The Orchard End Murder, by Christian Marnham is the 35th title from the label and is due to be released in dual format edition (DVD/Blu-ray) on 24 July 2017.
This fascinating short film originally appeared in 1981 as the supporting feature for a rather charming everyday tale of a necrophilic mortician whose wholesome little hobby is reanimating corpses called Dead & Buried. Ahh, I can clearly hear the sound of confused millennials out there wondering just what the heck a 'supporting feature' was, well let me enlighten you. There was a time, until the early 1980's as the practice became a thing of the past,  when many films featured in the cinema were part of a double bill (yes that's right, two films for the price of one) or supported by a short film. For many of us in those days part of the joy of going to the pictures was finding out what the supporting feature actually was; it could be a documentary, an animated short or sometimes a short feature film. Often the support slot was infinitely forgettable, but occasionally one would stumble upon a delightful hidden gem that would linger in the mind sometimes even more than the actual movie you had gone along too see.
By all accounts this particular short feature, The Orchard End Murder created something of a stir back in the heady days of 1981……..
"Set in an idyllic Kent village one balmy summer during the 1960s, The Orchard End Murder, an obscure British oddity from 1981, is a macabre tale of murder and mischief. A young woman from the suburbs (Tracy Hyde, Melody),  is well and truly bored. Instead of the afternoon of  pleasurable  delights that she had in mind with her boyfriend the young woman has to make do watching him  play Cricket. She soon  wanders off to explore her surroundings. When she meets a gnome-like stationmaster and his towering, half-witted railway-worker friend (played by Casualty's Clive Mantle), an initially strange encounter turns sinister among the trees of a nearby orchard."
I'll be honest, I had never heard of this film until I received an email from the BFI last week asking if I'd be interested in being sent review discs . It was great to see that the ability of those long-forgotten supporting features still had the power to pleasently surprise me.
For a start The Orchard End Murder looks wonderful. To be honest this shouldn't really come as a surprise as the film's cinematographer was Peter Jessop whose distinctive camerawork for years had expertly complimented director Peter Walker in such films as The House of Whipcord (1974) and Frightmare (1974). Jessop's camera work is deliciously crisp and textured which serves to add a distinct sub-layer of disquiet underneath the seemingly unthreatening English countryside. Add to that some clearly inspired set piece camerawork and direction (from Christian Marnham) throughout, with perhaps the most effective set piece of the whole film,  the standout early crane shot that slowly moves away from the Cricket match and sweeps over the trees to give us a fleeting glimpse of a secretive figure spying on our frolicking couple. In so doing so, the filmmakers make sure that we the viewer become a fellow voyeur. And so the feeling of unease of the viewer begins.
On the face of it the film looks like a rather gentle and unassuming representation of English rural life with Cricket, steam trains and pretty apple orchards. However the the skill here is at first hinting, then explicitly showing the grubby and menacing underbelly which contrasts starkly with the 'English country Garden' superficiality. I don't want to give too much away but this contrast is never so strong as the location for the ultimate act of violence – a dumping area for rotting apples and discarded rusting household goods. The scene is violent, seedy and destructive – both in location and act.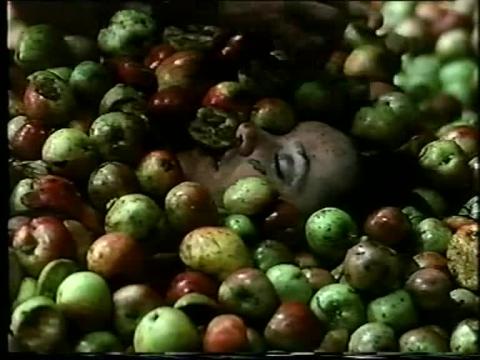 The two stand-out performances come from experienced British character actor Bill Wallis and the ever familiar Clive Mantle (Robin of Sherwood, Casualty). Wallis is simply excellent as the creepy Railway Gatekeeper and it is he who nicely adds to the contrast of seemingly benign rural nicety and a less wholesome reality underneath. Take for example his pleasant humming of 'In an English country garden' while giving off the air of pondering malevolence. Mantle too is excellent with arguably the more difficult role of of making his sexually violent character almost sympathetic. Credit too should be given to Tracy Hyde, who is excellent in her role of a woman who flourishes in her sexually liberated suburban world yet fails to realise the dangers of her new rural surroundings and some of the sinister people within it. Oh yes, and she is drop-dead gorgeous……….. pun intended. I'll get my coat.
All in all, The Orchard End Murder is a deliciously seedy violent thriller with some equally delicious darkly humourous undertones and is highly recommended to add to the list of welcome reclamations from the depths of movie obscurity.
Special features
Presented in High Definition and Standard Definition
The Showman (Christian Marnham, 1970, 25 mins): Short documentary about fairground Wild West showman Wally Shufflebottom
Christian Marnham on The Orchard End Murder (2017, 38 mins)
Christian Marnham on The Showman (2017, 5 mins)
From Melody to Orchard End Murder: An Interview with Tracy Hyde (2017, 12 mins)
An Interview with David Wilkinson  (2017, 13 mins)
Illustrated booklet with new writing by Josephine Botting and Vic Pratt, and full film credits
Product details
RRP: £19.99/ Cat. no. BFIB1277 / Cert 18 / BFI Flipside No. 035
UK / 1981 / colour / 50 mins + special features / English language, with optional hard-of-hearing subtitles / original aspect ratio 1.85:1 // BD50: 1080p, 24fps, PCM 2.0 mono (48kHz/24-bit) / DVD9: PAL, 25fps, Dolby Digital 2.0 mono (320kbps)
You can check this and the other titles available from BFI Flipside RIGHT HERE.